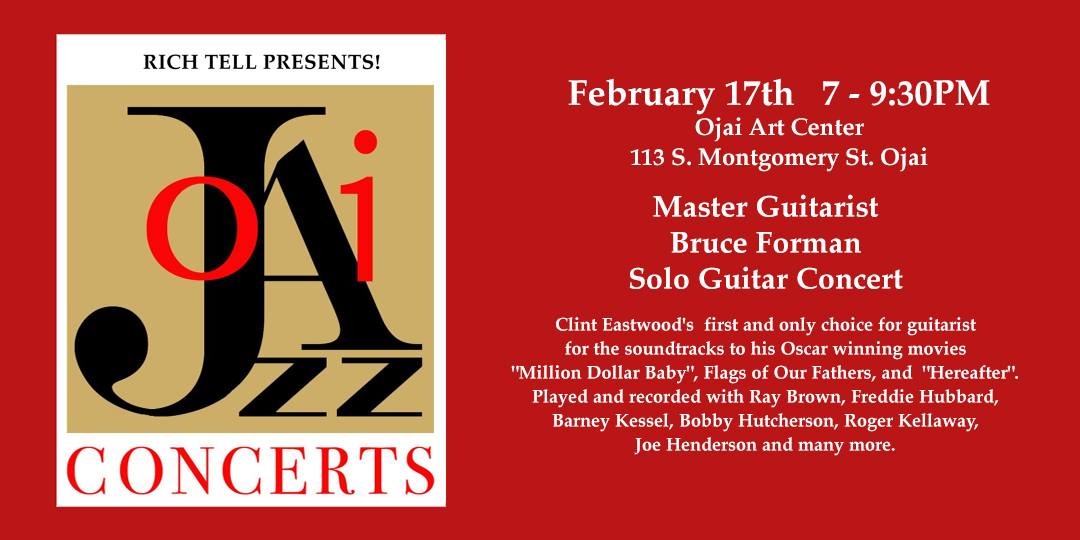 Bruce Forman – Guitar Virtuoso
February 17 @ 7:00 pm

-

9:00 pm

|

$10 – $30
Ojai Jazz Concerts presents Bruce Forman – Guitar Virtuoso
Imagine receiving an invitation to a gala featuring John Coltrane, Sigmund Freud, and Faust.
Bruce Forman's "The Red Guitar" is all that and more. It draws on Forman's decades of experience as a formidable jazz guitarist and his considerable skill as a storyteller and teacher, producing a work that is greater than the sum of its dazzling parts.
A story in and about jazz, The Red Guitar showcases Bruce Forman's genre—breaking inventiveness and his ability to improvise and create within a classical form. Enlisting the full power of the jazz idiom and integrating it with seasoned and provocative story-telling, he confronts the dilemma of artistic obsession face-to-face—by creating a work of art that simultaneously explores and demonstrates the hold that music has over its most ardent followers, the hold that poses itself as a life-or-death, must-be-solved-question to Forman and his ilk: "The Red Guitar. Do you play it…or does it play you?
Clint Eastwood's first and only choice of guitarist for the soundtracks of his Oscar-winning movies "Million Dollar Baby", Flags of Our Fathers", and "Hereafter"! Played and recorded with Ray Brown, Freddie Hubbard, Barney Kessel, Bobby Hutcherson, Roger Kellaway, Joe Henderson, and many more !
LISTEN TO BRUCE :
https://www.youtube.com/watch?v=C6zQ-fyGTzk
Doors open @ 6:30 pm Questions ? Rich Tell 805-746-0936
FREE PARKING ACROSS THE STREET AT CAFE EMPORIUM NOW INCLUDED!!!
LOT GATES OPEN AT 6:15PM AND CLOSE AT 10PM SHARP !!!
SPONSORED BY LYNDON THOMAS INSURANCE