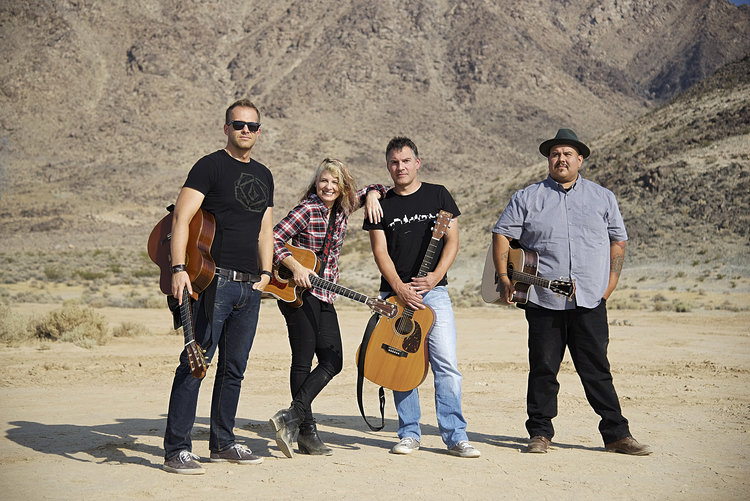 The String Revolution & The Rose Valley Thorns
March 22 @ 7:30 pm

-

9:30 pm

|

$20
The String Revolution & The Rose Valley Thorns at the Ojai Underground Exchange
  

Ojai Underground Exchange (map)
Join us Friday, March 15th for the young and powerful Nicola Winocur! Strongly influenced by Legends like Ella Fitzgerald and Donny Hathaway. Her voice is smooth and silky and will transport you back in time to an age when music was great. Nicola Winokur provides a wide variety of classics ranging from jazz to blues. Jonathan McEuen said " She is so good it's scary!" She is being trained in the Applied Music program by Stephanie Aston at Moorpark College where they focus on opera in various different languages as well as technique and music history. Nicola has been in choir since she was 7 years old and has been changed by the world of music. In the future, she considers being a musical therapist as well as being a performer in the jazz community. She is currently working with Jonathan McEuen(guitar),Kevin Su Fukagawa(piano), Aidan Babson(drums), Nathaniel Alpin(keys), and Torrance Klein(bass) along with anyone that is up for a good jam! The show will start at 7:30, and there is a $15-$20 suggested donation at the door.
  

Ojai Underground Exchange (map)
Join us Friday, March 22nd for The String Revolution and The Rose Valley Thorns! Based in Los Angeles, California, The String Revolution is comprised of four professional guitar players who are virtuosos and create distinctive sounds with their guitars: mimicking percussion, special effects, melodic grooves, bass lines, and more. They share a passion for many different musical styles and guitar techniques which has given The String Revolution a unique sound. This is evident in their studio recordings and live shows. The band includes former Randy Rhoads student Janet Robin (recently named "Top 50 Acoustic Guitarist" by Guitar Player Magazine, 2017), who is also an acclaimed touring guitarist with the likes of Lindsey Buckingham, Meredith Brooks, Air Supply and many more, award winning Austrian nylon-string guitarist Markus Illko, Swiss multi-credited producer, songwriter, and guitarist Daniel Schwarz, and underground LA fav indie artist/guitarist Art Zavala Jr. The String Revolution's cover version of "Billie Jean" reached the Top 10 Spotify LA Instrumental Charts and has over 150,000 plays. "Stringborn" was also included on the 2017 Grammy Entry Ballot. The band has been selling out local LA and California regional music clubs, house concerts, and festivals including The Hotel Cafe, The Mint, Genghis Cohen, Laguna Beach Arts Festival, NAMM Headquarters and many more, and will soon embark on international touring. Their shows include original compositions as well as memorable covers arranged in fresh and surprising ways utilizing their expert guitar skills. With entertaining guitar chops, exceptional musicianship, and an international background, The String Revolution is no doubt a new and unique force in the world of music and guitar performance.
The Rose Valley Thorns are a bluegrass and progressive bluegrass band founded in Ojai, California. Joshua Bergmann, Jared Bergmann, and Corey Highberg have combined their eclectic musical backgrounds to put their efforts into modern bluegrass, paying homage to traditional bluegrass legends, as well as taking steps forward with their unique original material.
Join us at 7:30, with a $20 suggested donation at the door.