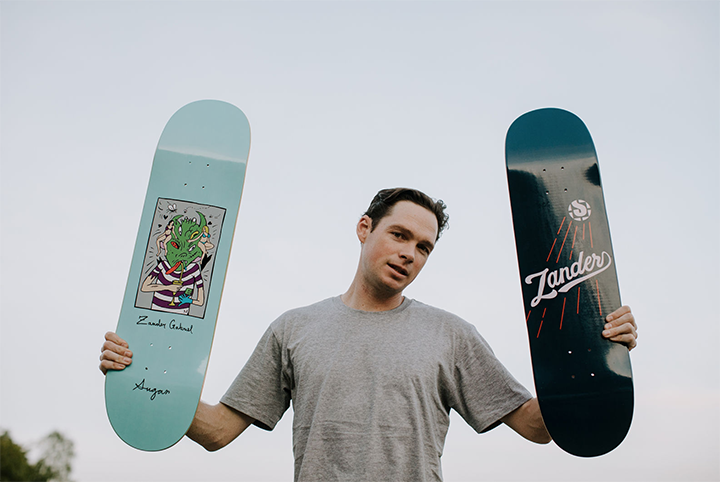 Zander Gabriel first realized that skateboarding could be a viable career when he watched a stunt person fail to perform a jump during the filming of "Easy A," at Nordhoff High School. "I could do better," he said. And so he has.
By then, he'd already been spending plenty of time skating around Ojai, including at the rickety old wooden skate park. "Skateboarding has taught me patience and persistence. If I do sometimes take a slight detour," he said.
Gabriel is part of a lineage that extends back to the 1950s but came into its own in the 1970s when Stacy Peralta and friends, as immortalized in the 2005 film, "Lords of Dogtown," matched up roller skating with surfing to create a distinct culture. The renegade sport, and lifestyle which went with it, soon went professional. Zander says that was a controversial moment when the sport became competitive. "The purists will tell you the only battle is with yourself, and the concrete."
He keeps his wheels in both worlds, competing internationally and through his true love, street skating. "Most of my days are spent with friends exploring the terrain of a city in search of new skate spots," he said.
The sport has come a long way, all the way to the 2021 Summer Olympics in Tokyo. While Gabriel won't be competing, he will be on hand to cheer on many of closest friends who are.
Thanks to his "NDB," a never-been-done stunt, Gabriel's reputation as a "skater's skater" has been secured for all time. The El Toro, a 20-stair and accompanying rail in Lake Forest, has attracted many of the world's most talented skaters, and is considered the skating world's equivalent of the Maverick, a break off Half Moon Bay, where the 25- to 60-foot swells challenge the top extreme surfers.
Gabriel's devilishly difficult stunt involved launching himself, with the board under him, on to the top of stair rail, then sliding the thin railing down the length of the 20 stairs, on only the board's back truck. Then, he had to stick the landing and roll away.
It took ten tries before the successful attempt. "Those ten falls are brutal to watch on video," he said. "But those falls are all part of the street cred and symbolic of all the hard work it took to get there. Those street skating quests are the true trophies."
It's taken awhile to master the sport, Gabriel said, and it didn't happen alone. "It's hard to believe it's been more than 20 years since I first dropped-in on the rickety old wooden skate ramp in Ojai. I did work really hard but none of this would have happened without my parents and our tight Ojai skate community."
His mother, Judy Gabriel, is the quintessential skate mom. "She would pack the car with my brother, our friends, lunches and boards to find the next school rail or So Cal park. Those trips inspired her to get us a better skate park in Ojai." The dilapidated wooden park was supposed to be temporary, but it took 10 years to get the concrete park approved by the city council and then built. "My mother and a lot of other dedicated parents would go to city council meetings to fight for the new concrete park and put on fund raisers. I learned a lot about community and government through all that," Gabriel said.
He also credits his father's love of bodysurfing. "I think he got the heart of what my brother Jameson and I love about skateboarding. On those road trips, he would scout out spots, take endless photos and yet let us walk into the park by ourselves … Once you throw down your board, all the differences in skin color or the neighborhood fade away."
Now that he's widening his entrepreneurial skills, Gabriel credits the skate-park ethos for his success. "Those social skills have translated to international contests, pub pool tables and business meetings around the world for me today," he said.
"My brother and I both competed in contests all over California," he said. "Few people were making a living at skateboarding back then, but we were all at one of the CASL (California Amateur Skate League) contests and my parents realized that it was more than just a hobby to me. A career was possible."
One such moment occurred when his parents sat in the stands next to Tony "Birdman" Hawk, who parleyed his skating habit into a globally successful business through branded gear, merchandise and especially the popular video game series. "I was skating against his son Riley Hawk. I definitely held my own. I beat him a few times and I think my parents believed me then when I said, "I can do this."
In high school Zander, known as "Zman," captained Ojai's High School Skate Team to 2nd place in the Southern California league.
As he headed to college in Santa Barbara to study marketing and business, his list of sponsors continued to lengthen, along with his shelves of trophies. Those business opportunities were always in the back of his mind as he watched the industry grow; towns around the country added skate parks and more and more kids were riding boards.
Skating is big business, Gabriel said, more than $2 billion annually worldwide. Even though he is only 30 years old, his skater's body has multiple pieces of metal pinning it together — like many skaters, he's more proud of his scars than his trophies — so it's time to plan for post-competition life.
The idea dawned on him during the filming of "Easy A" — an accomplished skater would be in demand in the entertainment business as skating culture went mainstream, so he found himself an agent. After a couple dozen auditions, he landed his first role.
It turned out to be a big one, a solo commercial for the Volkswagen Jetta. He said, "It was incredibly intimidating walking into the VW audition.  The waiting room was filled with pro skaters who I looked up to and we were all asked to wear business suits. It was a strange surreal moment. Seeing skaters in suits is a rare occurrence. My agent called me after and said, "You've got the gig!"
That gig, for Volkswagen Jetta, first aired in 2017, and ran during the NBA Finals and the finals of "The Voice." All told, the commercial aired for two years and has been seen by hundreds of millions of viewers in several countries. It features Gabriel in a fitted blue suit walking amid a teeming sea of office workers on a busy Los Angeles street. He then drops his board and sets upon an urban adventure, grinding on a rail, flipping his board and is about to launch onto a staircase railing with an ecstatic flash, when the tagline appears: "That Feeling. Only Better."
He's still booking stunt, acting and modeling work, including most recently a photo shoot for a Miller Lite campaign for social media and print. "The timing was perfect as I'm just recovering from a broken ankle and the contest pandemification. Everyone is great on the set and we have a good time."
In his world, he's as big a celebrity as some of the entertainment industry titans he's met. He met "Tonight Show" host Jimmy Fallon through comedian Barry Sobel, with whom Gabriel was consulting on an animation about skating. "We'd go out and play pool, and have drink or two, and Barry said that Jimmy Fallon was in town, 'Would I want to go have a drink with him?" he asked. "Would I!" Gabriel replied. Fallon, preparing for hosting the Golden Globes the next night, asked Zander and Barry to help him workshop his jokes, so they met up at the Beverly Hills Hotel. Fallon invited Gabriel to the Globes' after party, and they have built a friendship from there.
"I've met all kinds of people on my travels and had some crazy experiences.  The people are what makes it all worth while. I try to leave a situation better than when I arrived and the people happier. I like to hang with those who do the same."
This past year off from traveling and contests has also given him a chance to heal. As with many competitive athletes at the highest rank, Gabriel is equally as proud of his scars as his medals, pointing out the four surgeries he's endured; breaking his wrist in the X-Games, gifts from Prague and Hiroshima of metal plates in both collarbones, and his recent tumble at the bottom of a 22-stair rail, ending in a spiral fracture from his ankle up to his knee.
"Broken bones come with the territory, but I'm happy if the streak is over. I don't need to visit a hospital on every continent."
From those modest beginnings as an Ojai skater kid, he's traveled the world; Saudi Arabia, South Africa, China, Japan and all over Europe. "It's been a long journey, really fun, but I've been working my butt off, and now it's finally happening."
By happening, Gabriel means Sugar Skateboards is officially launching his pro board, four of them actually. In addition, Destructo is coming out with a Zander Gabriel Pro Truck. Even though he has competed for the last five years around the world in international pro contests, the pandemic has given him the time and space to make the next step in his career, and to celebrate, and accelerate, his professional status.
"It really is a celebration. So many of these shops, like 5 Points in Ventura which were my first sponsor, have supported me over the years when I was just stringing it all together. I'm so grateful. It's really a dream come true," he said. "Hopefully, by the time this publishes, my boards will be available on my site and in stores."
Gabriel plans to host a small gathering in Ojai later this summer to "do a little event, hang with old friends, meet new ones, have a barbecue, give away a few boards, just saying 'Thanks," and celebrate his success at the site where it all began.